From Right to Left: Marina Kanibalotski Proves that Nothing is Impossible
|
31 Jul 2023
|
7 min read
Meet Marina, a devoted mother of two, who has been an integral part of our QA department for over 5 years. Marina is a true embodiment of humor and optimism, radiating unparalleled creativity and curiosity, and possessing a remarkable capacity for continuous learning. When faced with the diagnosis of Parkinson's, she refused to let it hinder her spirit. As the function on the right side of her body decreased, Marina adapted, becoming left-handed. And if that doesn't already amaze you, just wait until you hear about Marina's awe-inspiring hobbies and her determination to overcome daily struggles.
Could you please share a bit about yourself?
I'm 37 years old, and a proud mother to Matan, who's 12, and Yoni, who's 9. For the past 5 years, I've been an essential member of Nova's team, initially as a software QA specialist and recently, I was promoted to the role of Technical Leader. My focus mainly revolves around testing software on the server side and working with Big Data. I'm quite a technical enthusiast, always eager to explore and scrutinize things, which naturally leads me to immerse myself in learning about our products, not just for professional purposes but also to expand my general knowledge. This passion for learning has allowed me to become well-versed in various aspects of Nova's products, and I'm always ready to lend a helping hand when it comes to testing from a tool's perspective. Additionally, I happily provide guidance and training to our new team members, fostering a collaborative and supportive work environment.
What fuels your high motivation for learning and conducting research, even after five years here at Nova? 
It seems that the activation of both brain lobes plays a significant role – it's not just a coincidence!
What do you mean by this? Could you elaborate, please?
I was born right-handed, but due to the damage caused by Parkinson's disease, my right side was affected. Despite the challenges, I knew I had to adapt and continue living a normal life. So, I taught myself to become left-handed, and now I am almost completely left-handed.
About eight years ago, I went through a very tough period when I had to take care of my ill parents who eventually passed away six months apart. During that time, I was in school, pregnant, and facing numerous challenges. It was an incredibly stressful period. After some time, I started feeling unbalanced while standing, thinking it was an orthopedic issue. Little did I know that these were early signs of Parkinson's, which typically begins long before any noticeable external symptoms appear. The actual diagnosis came at the age of 31, just before starting a new job at Nova, during a very demanding time in my life.
From the time I noticed the weakness and until I received the official diagnosis, about a year and a half had passed. I found out about the diagnosis on my own, by accessing the personal area on the hospital's website, while I was alone at home. Being a somewhat cynical person with a dark sense of humor, I decided to celebrate it as my "diagnosis anniversary" and commemorate six years since the diagnosis this September.
We would like to congratulate you on your strength and resilience
Thank you! Oh, absolutely, go ahead and say it! If I can still laugh in the face of this situation, then I'm already winning against the disease! Every passing year, as I laugh at the disease and celebrate the anniversary, I see it as another victory. This is my attitude.
I chose to keep on living. On one hand, I was diagnosed with a disease more commonly associated with older individuals when I was just 31, and there's no cure for it. But on the other hand, I have two young children at home, and I know I must continue living for them. I'm only at the beginning of my journey. When I first learned about the disease, I could have given in to feelings of helplessness and despair, thinking, "Oh, fate, what am I going to do now?" and crying in the darkness. But that's just not who I am. I am determined to keep moving forward with strength and optimism.
This is incredible!
 You were hired around the same time you were diagnosed, right? How did they react to it at Nova?
Initially, it was irrelevant because the disease wasn't visible, and it didn't affect my work or cause any issues. There was no need to discuss it. At the age of 31, as a young woman, I felt embarrassed about it. I remember thinking, "Am I really going to tell them that I 'vibrate' in my free time?"
As the Parkinson's became more noticeable, I decided to face it head-on. I realized that it is what it is, and we'll deal with it as it comes. If someone asks, I'm honest about it. Honestly, I find people's reactions quite amusing at times. Sometimes, I even playfully emphasize it on purpose and enjoy their surprised expressions. It's become a way to break the ice and show that I can handle life with a sense of humor and positivity.
How do people really react?
It usually begins with a curious look, followed by questions like "What happened?" "Do you need any help?" or "Why are you limping?" The responses are generally very kind and sympathetic. As someone who is cynical, I often reply, "Oh, I have Parkinson's. It seems that many people lack awareness about young individuals being affected by this disease or have limited knowledge and familiarity with Parkinson's in general. The common perception is of an older person or someone severely debilitated, which doesn't match my situation at all.
Did Nova make specific adjustments to help and facilitate your work? Do you even need such adjustments?
Yes, as time went on, I noticed that sitting for extended periods was becoming more challenging. Sometimes I have to stand for about three minutes, and other times it may take up to ten minutes until I feel settled again - and that's just wasted time. So, I asked and was provided with a standing desk, an electric one that resolves this issue. Personally, it is very beneficial for me, and I'm grateful that they accommodated this request, even though nobody here had encountered such a need before.
Can you share and tell us about your hobbies too?
Sure, just let me give you some background first: The Parkinson's damage primarily affects the right side of my body, so the tremor is on the right side, and there is weakness and stiffness both in my leg and hand. As time goes on, or during moments of fatigue or stress, my right hand becomes less functional; it shakes, and typing or using the mouse becomes more difficult. Essentially, every daily action becomes more challenging when my hand is unstable. The solution for me was to start using my other hand. Today, not only is it functional, but I can even make jewelry with it, and I really enjoy doing it!
It's reached the point where my subconscious has become so accustomed to using my left hand that even in the jewelry I prepare, I thread the clasp of the chains to the left. Until someone pointed it out to me, I didn't even notice it; it's likely deeply ingrained in my subconscious now.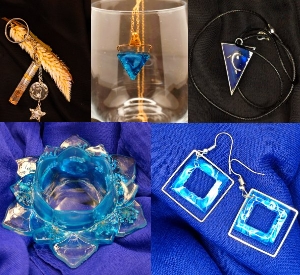 Where did the idea to make jewelry come from?
It all started with a burst of creativity that had been hidden and dormant for many years. I was searching for something to do, and one day I stumbled upon epoxy jewelry on Pinterest. It looked simple enough. Intrigued, I decided to give it a try. To my surprise, people loved my creations, including friends and acquaintances. Encouraged by a good friend, I opened a shop on Etsy and began promoting my work on Facebook, creating flyers, videos, and graphics for self-advertisement, all of which I enjoyed doing.
While my Etsy shop didn't flourish as expected due to limited awareness of the platform in Israel, I started a page on Instagram and relied on word of mouth to spread the word. As I spent more time on the internet, I discovered various gadgets that allowed me to expand beyond just jewelry making. Now, my creative endeavors have evolved to include branding cups, bottles, shirts, textiles of all kinds, signs, and pretty much anything you can imagine – I'm up for the challenge!
Could you also tell us about your Instagram page, Mr.WittyBoard?
Sure! My Instagram page, Mr.WittyBoard, showcases an array of creative message boards.
If you're not familiar with message boards, they are quirky signs displaying humorous and thought-provoking messages. I have one sitting on my desk in the office, and each week I change the sentence to keep things fresh and entertaining. It's amazing how these simple boards can resonate with people! I've built an audience of fans, including fellow Nova colleagues who enjoy the wit and charm of these boards. It's been a delightful experience to connect with others through humor and creativity on my Instagram page.
And you have another page that got a facelift recently, right?
Originally, it was a jewelry page, but since it now showcases a wide range of my creations, I decided to rename it to "Shaking Art." On this page, you can find all the items I make, and each piece can be customized and purchased. As you scroll down, you might notice that the earlier photos are less impressive, but as you go up, the shots become much more captivating. Through this process, I've also honed my photography and editing skills.
Aside from my hobbies and creative ventures, I dedicate a significant amount of time to researching Parkinson's. One notable example is a Facebook group called "Living with Parkinson's," where I actively advise and share my experiences and knowledge. My choice is to continue living with Parkinson's and confront the daily challenges that come with the disease, demonstrating that it is entirely possible to overcome them with resilience and determination!